Giving from Your Retirement Plan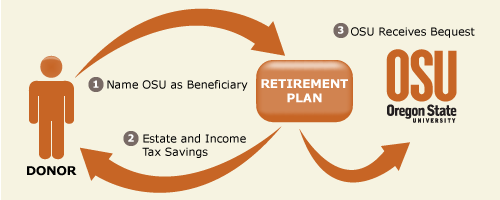 How It Works
Name The Oregon State University Foundation as a beneficiary of your IRA, 401(k), or other qualified plan.
Designate us to receive all or a portion of the balance of your plan through your plan administrator.
The balance in your plan passes to Oregon State University Foundation after your death.
Important Related Topics
Benefits
Avoid the potential double taxation your retirement savings would face if you designated them to your heirs.
Continue to take regular lifetime withdrawals.
Maintain flexibility to change beneficiaries if your family's needs change during your lifetime.
Leave a lasting legacy by creating an endowed fund in your or your family's name
Download a brochure on this topic:
Contact Us
Act now to take the steps that you need to do to be a good steward of the resources you intend to leave behind.
Please contact the OSU Foundation Office of Gift Planning or use our form to request more information.